The Record
By Thomas Lawrence Record Correspondent
Posted Dec 28, 2019 at 12:01 AMUpdated Dec 28, 2019 at 9:17 PM
STOCKTON — Justin Gregory was a "Star Wars" fan growing up more than three decades ago. Gregory's 5-year-old daughter Ava likes the series as well, and that generational bridge is commonplace for the powerful franchise that's now spanned more than four decades since the original "Star Wars" hit theaters in 1977. Saturday night at Stockton Arena was a vibrant melding of basketball and space-based fiction, as the Stockton Kings hosted "Star Wars" Night via a G League game against the Santa Cruz Warriors. Both Justin and Ava wore "Star Wars" shirts to commemorate the occasion. "We've been wanting to come to a Stockton Kings game for awhile. We saw a Facebook ad pop up and said 'what the heck,' " said Gregory, who has coached basketball at Kimball High School in Tracy. "We just went on Christmas day to watch the final" installment of the "Star Wars" film series.
The doors of Stockton Arena opened at 6 p.m., an hour before the 7 p.m. tipoff, and fans were treated to a live band (with a variety of instruments, a la the "Cantina" band), photo opportunities with characters such as Emperor Palpatine, and a green screen photo set-up with props. One man wearing a Detroit Pistons shirt, for example, posed with a purple light saber at the green screen. The "Star Wars" band featured, among others, Chewbacca, a drummer wearing a Yoda mask and another member in a stormtrooper sweat suit. The Yoda drummer at one point walked in front of the band and gave his drumsticks to a little girl in a pink jacket. She happily obliged and banged on Yoda's drum as the band played behind them.
A "Star Wars" fan wearing a plastic Darth Vader mask and black cape filmed the mini-concert on a smartphone and helped the band lug around a cart with guitar amps. The cart was fittingly covered with an old-school Sacramento Kings flag. The band quite literally marched around the arena's lower walkway near the concessions as they performed the ever-popular "Imperial Death March." "We're just kind of checking it out. I've been a fan of 'Star Wars' since I was her age, which is very cool," said Gregory, whose wife also attended Saturday's game. "I've coached for awhile too, basketball in high school, so it's the best of both worlds in my book."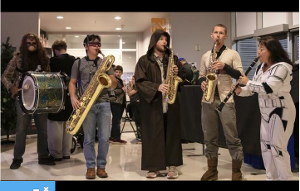 The Record
"Learning the fun-damentals of drumming at Children's Museum"
July 29, 2019 at 6:39 pm
Children learn to play the African djembe drum in a free drumming class at the Children's Museum of Stockton, a collaboration between Art Expressions of San Joaquin, the Children's Museum and a grant from the Stockton Arts Commission. More free classes will be held at the museum, 402 W. Weber Ave., on Wednesday, July 31, from 10 to 11 a.m. and 11:30 a.m. to 12:30 p.m. for children from third through 12th grades
Loki Rhythm Delights Asian Pacific Festival (Locke, CA)
May 19 2012
Large and enthusiastic crowds attending this years Locke Asia Pacific Spring Festival were treated to the lush and tight sound of Northern California's Loki Rhythm.
The world music group not only provided the Festival with covers of popular musical favorites but also gave the Festival attendees an education in music from around the globe.
The air was filled with Afro-Cuban riffs and Caribbean grooves as Locke's guests cruised the festival grounds and swayed to Loki Rhythm's infectious sound. Many visitors simply planted themselves in a comfortable place close to the band, took in the visuals of Locke's historic Main Street, and immersed themselves in the rich and spontaneous sound of Loki Rhythm.
The town of Locke wishes to thank Loki Rhythm for helping make its 2012 Asian Pacific Spring Festival a successful event; creating a happening that people will continue to talk about.
Stuart Walthall
Chairman
Locke Asian Pacific Spring Festival
Emerson Coffee Shop
First Unitarian Universalist Church of Stockton
Loki Rhythm is a musical group performing regularly at "Emerson Coffeehouse", sponsored by the First Unitarian Universalist Church of Stockton. Our audiences sing, laugh, dance, and drum along with Loki Rhythm's world music.
Manny and Tanya provide commentary about the history of the instruments they play and their listeners are transported to other parts of the world as they play drum rhythms from nearly every continent. Seren, their son, a skilled young instrumentalist, engages the audience as he sings and performs solo pieces in our Emerson Coffeehouse events featuring music scholars.
Each musician of this ensemble seems to perform on strings, horns, percussion, and vocals, adding unique talents and personalities to Loki Rhythm. Every performance is a dynamic, enjoyable musical experience for every age group. Thank you, Loki Rhythm, for making our church walls rock and sway with your vibrant tunes and harmonies.
Thank you very much,

Betsy Keithcart, Music Committee Chair

Stockton Children's Museum
April 25, 2015
Loki Rhythm is such a special band! At the Children's Museum of Stockton they played lively and engaging music that both kids and parents could enjoy and many children loved drumming with them. They are wonderful musicians and inspiring teachers. I hope they will be back at the Museum again this year.
Lisa Jones
Director of Development Children's Museum of Stockton
The Podesto Teen Impact Center (Stockton, CA)


During the 2012 Italian Street Painting Festival at the Podesto Teen Impact Center in Stockton, artists, patrons, and families were lucky enough to experience Loki Rhythm's performance. The band played a full, 2-hour set in 90-plus degree weather, and smiled straight through it. Their laid back, yet engaging music was a perfect match for our event. I heard music ranging from Hawaiian, African, Persian, R&B, Caribbean, and even French. As an audience member and organizer for the event, I can attest to both the quality of music and the band's professionalism.

The Podesto Teen Impact Center has had several events where we've contracted performers, bands, and DJ's, but Loki Rhythm's show stands out as an example of hassle-free and fun. The band came over an hour early to set, took one, 20 minute break, and finished with a strong set. I cannot stress how easy and enjoyable dealing with this band was. Each band member was pleasant and approachable, and their character really came through during their performance.

I would highly recommend this band for any event or program. Their versatility and diversity of music can fit a wide range of events, and they engaged the audience from warm-ups to closing remarks. The Podesto Teen Impact Center and Family Resource and Referral Center of San Joaquin County will absolutely be contracting Loki Rhythm for many future events, and we highly suggest doing the same.
If you have any questions regarding my experience with Loki Rhythm, please do not hesitate to call me at (209) 461-2943, or email bkamaiopili@frrcsj.org.

Best regards,
Brent Kamaiopili

Podesto Teen Impact Center

Program Coordinator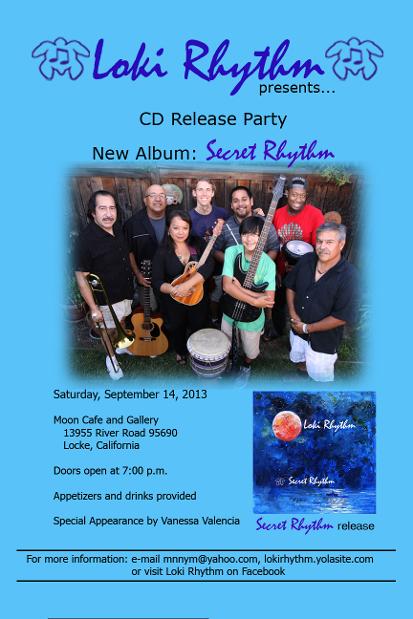 Quail Lakes Baptist Church
1904 Quail Lakes Drive
Stockton, CA 95207
Dear Loki Rhythm:
We are so incredibly grateful for your participation in our Tapestry of Quail festival last month!! It is with great excitement and thanksgiving that we write to tell you how pleased our team of workers, and attendees were with your entertainment. As you know, the purpose of our festival is to uniquely experience and celebrate the tapestry of cultures, nationalities, and ethnicities represented among our church. We have between 20 and 30 booths of foods from various countries around the world, and always seek to equally represent those countries in our entertainment lineup. In years past, we would have anywhere from 5 to 8 entertainment acts scheduled to give us little glimpses of some of those countries. Every year we would rush through one to get to the next, and always left the event feeling as though we missed out on so many of the beautiful cultures among us.
When your group joined our festival last year, we were blessed beyond measure. The music was not only FANTASTIC, and your group of musicians extremely talented, but you guys covered every region of the world….and truly represented each culture as if we were all locals in the country for just a few moments. We saw audience members from Africa, Southeast Asia, South America, and Europe ALL rave about how accurately and uniquely Loki Rhythm interpreted the music of their native land. It takes true talent to embrace one foreign culture, but you all successfully transported our audience to 10 different countries!! We absolutely loved it!
We love you guys, and hope to keep Loki Rhythm in our lineup for many, many years to come!!
With Many, Many Thanks,
Dana Griggs
Quail Lakes Baptist Church